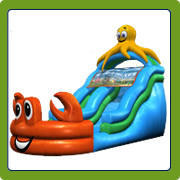 Under the Sea

Outlets: 1
$175.00
Add $75 for Delivery
$250 delivered includes set-up and take-away. $175 customer pick-up, must pick up and return to our DeSoto store.
Pick-up hours for Saturday rentals are from 8am-11am/ return Sunday morning from 7am-9am.
Pick-up hours for Sunday rentals are from 11am-1pm/ retunrMonday morning from 8am-10am.
Customer pick-ups from Monday-Thurs by appointment.
No customer pick-ups for Friday rentals unless it will be a 2-day rental to include Saturday.
We recommend a large SUV (seats folded completely),pick up truck or trailer and we will load the items in your vehicle
for you.
Afford a Bounce is not responsible for any damages to your vehicle while loading or unloading rental equipment
While setting up,we recommend a dolly,hammer and at least 2 or more people to set up and take down since inflatables,weigth range from 235 to 370 LBS
27`Lx14.5`Wx18`H 270 lbs
This unit takes 2 blowers to blow up.