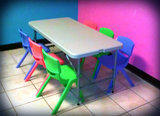 1 Kids Table & 6 Chairs set
$10.00
Add $5 for Delivery
Each set comes with 1 adjustable height table

48" L x 24" W
and 6 kids chairs. $15 each set if delivered with a bounce house. $10 each set for customer pick-up - must pick up and return to our DeSoto store.
We do not deliver just tables and chairs unless you have a bounce house rental with us,thank you.
Pick-up hours for Saturday rentals are from

8am-12pm/ return Sunday morning from 7am-9am.
Pick-up hours for Sunday rentals are from

11am-1pm/ drop-off Monday morning from 8am-10am.


Customer pick-ups from Monday-Thurs by appointment.
No customer pick-ups for Friday rentals unless it will be a 2-day rental to include Saturday.